Unscripted wedding moments by Two Mann Studios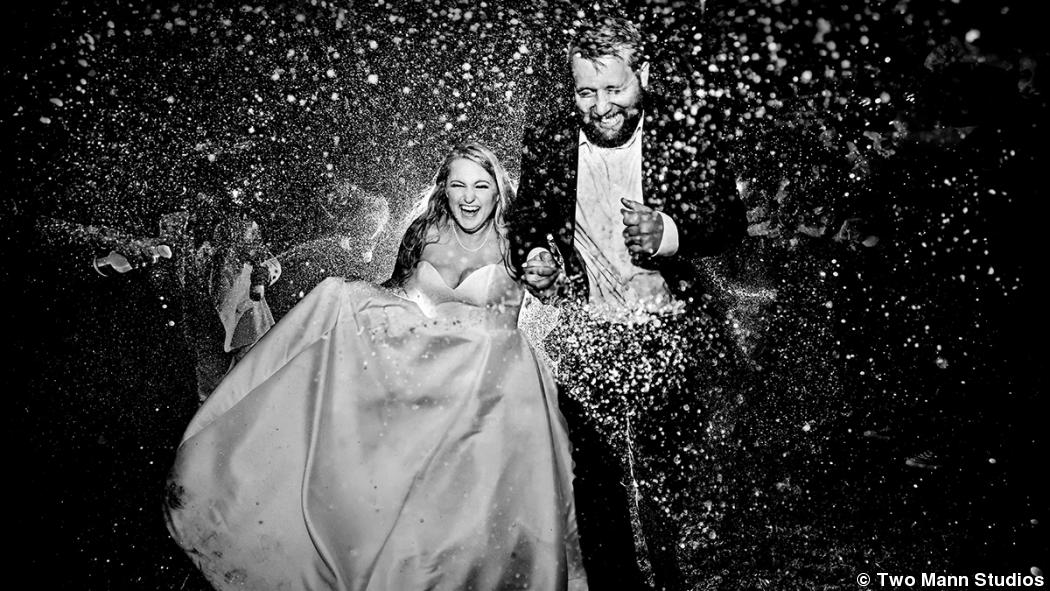 How's this for honesty from award winning wedding photographer Erika Mann: "I find weddings boring."
Really?
"I know that sounds a little crazy, given our business, but what I mean to say is that most weddings are scripted, pageantry-like events that follow a set pattern or timeline: the first kiss, the cake cut, and on and on. B-O-R-I-N-G!"
She pauses for a moment, takes a breath, and continues: "However, what I do not find boring are the people, the personalities, the relationships, and the special moments—especially the moments between the moments—that make up a wedding."
Her husband and business partner, Lanny Mann, adds, "We've long said that the real weddings take place between these scripted moments, and by trying to capture those, we've discovered that each wedding is different. Looking for those keeps us being spontaneous and creative."

Moments the Manns hope to preserve can be subtle—a glance, a wink, a hand gesture, a flower girl's gaze at the bride—or something more dramatic. Erika recalls the time a bride sat after having her hair and make-up done and began reading a letter her mother had written her three years earlier while her mother was battling cancer. "Her mother had passed on, and this was the first time the bride had read her letter," Erika says. "I could sense that it was an emotional moment, and although I usually shoot in close, I took a few steps back to show the entire scene in the room. This was an unscripted, incredibly moving moment that we were thrilled to be able to capture."
Wedding realists
The Manns have been photographing weddings since 2008, when a friend asked them to shoot theirs. The couple, who hale from Canmore, Canada, has gained an international reputation for their documentary style, for which they've won a slew of awards. They photograph 10 to 12 weddings a year through their business Two Mann Studios, many of which take place abroad, and they offer several wedding photography workshops annually.
"Clients choose us knowing that we are not going to stage or direct anything during the wedding aside from the formal family and couples portraits. They may have seen other wedding photographers who seem to have directed the entire day's schedule, but we explain to them that it's their wedding day, not a photo shoot," says Erika. Adds Lanny, "Our hope is that when they look at their wedding pictures a decade from now they will see what they were feeling in that moment, not, 'Oh that's when the photogra-
pher had me stand in front of the window to do up my tie.' We will tell them that we cannot make up anything that is better than the reality that is going on around them."
The pair has titled their workshops "Metanoia," from the Greek word meaning "a fundamental change of thinking." The three-day experiences typically sell out within an hour of being announced. "I have been an educator before becoming a photographer, and I am passionate about inspiring and enhancing other photographers' work by reshaping the way they see and think," Lanny says.

Both enjoy the teaching process and report that their own photography has improved because they had to discover exactly what made them successful and break it down to teach it.
Jeff Tisman is a wedding photographer based in New Jersey ("Seeing Differently," July 2015). "They taught me so much about storytelling and looking out for those moments that are so easy to miss," he says. "I don't think there are better wedding photographers out there."
Embrace failure, et al.
Although the Manns are quick to admit their methods may not work for or appeal to everyone, they're enthusiastic about sharing what has helped them grow artistically as wedding photographers. Here are some of their favorite tips:
Have no expectations. Don't bring to the event any preconceived ideas or visions of what the wedding or the photos should look like. This attitude allows you to let reality unfold and be 100 percent present so you can capitalize on what you're given—what happens. Anticipate the moment as opposed to being caught up with a checklist.

Look for the moments. Learn to recognize and be ready for those moments that tell a story—from a subtle glance to a spectacular failure. These are great opportunities to tell a story that differentiates this wedding from any other. Maybe a bride needs to get her hair redone, or it starts pouring rain, or the fire alarm goes off at a reception. These unpredictable things are exciting and memorable. They allow you to tell a unique story. Recall the words of photographer David Alan Harvey: "Don't shoot what it looks like. Shoot what it feels like."
Always be ready. When you see a moment, don't just watch it; photograph it. The Manns say they noticed early in their careers that they could easily get swept up in the emotions and activities of the day, partaking in a moment instead of photographing it. For example, they'd be laughing at a joke someone made and then realize, Oh I should be photographing this. Remember that you can still interact with your clients from behind the camera.
Shoot a lot. To make sure you don't miss a sweet spot, make a lot of photographs. The Manns say it's not uncommon for them to make 20,000 shots between the two of them in a day. When you find a composition you believe in or there's a strong moment, shoot through the entire arc of that moment because you can't predict where the sweet spot is going to be. Often it's a tiny variation—the placement of a finger or the tilt of a head that makes the composition. Unpredictable things can turn a good photo into a great one. This is not spraying and praying. It's making sure each frame improves on the last.
Enjoy the struggle. Enjoy the process of being a wedding photographer. Embrace the struggle. Expect to work hard and to fail. Every time you pick up your camera you have far more chances for failure than success, say the Manns. So rather than beat yourself up or overpay for mistakes (both of which will take you out of the moment), recognize that freezing up in the face of failure prevents you from doing something new and exciting and different. Have fun.
RELATED: See how the Mann's cover travel photography
Robert Kiener is a writer in Vermont.
Recommended for You
Trending Content