The magic behind Ken Kaminesky's travel photography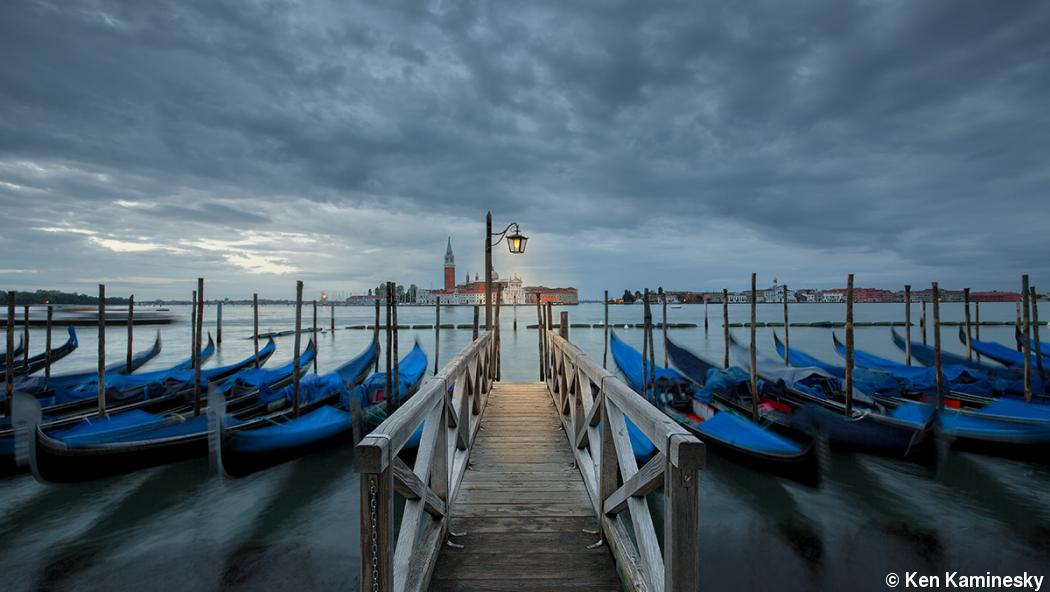 His story starts with packing boxes in a Montreal warehouse, but the lasting image is what matters most to travel photographer Ken Kaminesky—not just the image in hand but the memory of its moment, too.
For that, we find ourselves in Petra, the ancient Nabataean capital carved out of cliffs in Jordan. Kaminesky's online portfolio includes images of Petra he took on one of his Discovery Photo Tours, a business he launched in 2016. His recollection quickly jumps to his image of Petra's monastery under a night sky filled with stars. A glow emanating from beyond the frame on the right lights the rock formation to the left while light painting illuminates the monastery just enough for its carved facade to emerge from the cliff's face. How Kaminesky achieved the image is not where this conversation is heading, however. "One of my guests," he says referring to a client on his tour, "came up to me as we were shooting this and said, 'This is the best day of my life. And you made this happen.'" Kaminesky pauses. "That makes me feel like I've got to keep doing this."
Kaminesky is at another of his career crossroads. A onetime lifestyle photographer who turned a career crisis into a second successful career in travel photography, he moved two years ago from his native Montreal to New York City. He made the move for business proximity, personal connections, and because New York is "just bloody awesome." The business and personal connections faltered after a two-year hassle to obtain his green card. "It's tougher to get when you don't have a company to sponsor you," he says. He ended up getting a visa for "individuals of extraordinary ability." "Try saying that with a straight face and a drink in your hand," he jokes, but then says, seriously, "I better be if I want to make money in this business."
Editing zen
His portfolio showcases that ability with travel photography that looks more like paintings than real life, whether the subject is Petra, Kirkjufell Falls, Hungary's State Opera House, Zhangjiajie National Forest, Santa Monica State Beach, an Icelandic ice cave, or New York's skyline. He achieves these images through a lot of location research (groundwork to find the best angles and timing and to establish local connections) and hours of editing in Photoshop. "Editing images, drinking tea, and listening to music is where I want to experience that moment of zen which allows me to feel relaxed and creative," he says. "The more I can add some wow factor to an image by embellishing it, I'll do it. It's not like I'm doing the Zapruder film; I'm not a photojournalist. Why on earth would I deprive myself to use the best tools to create the best image?"
Most of Kaminesky's editing is in layering—blending sequences of shots from the same location. His image of the Roman Forum at sunrise captured with a tripod-mounted prototype Fujifilm X-T2 ("Literally, the first shot I took with this camera," says Kaminesky, a Fujifilm Global Ambassador and X-Photographer) blends the sunburst through the columns of an image taken at f/22 with skies and foreground taken between f/11 and f/8. Kaminesky is not aiming for artificiality but a truth.
"I'm interested in telling a story, my story, my vision, and sharing that with people. These images are homages of the place. I'm inspired by what I see, and that develops the painting in my head that best portrays what's in my heart and soul."
Whole-life experience
His epiphany came in 2009 when his first trip as a travel photographer took him to Florence and its oft-photographed cathedral, Il Duomo di Firenze. (On a later visit, one of his images of this landmark would be Kaminesky's second National Geographic cover.) The city was covered in snow when he ascended to the top of the dome. "It was icy and cold. I thought, I'm going to get the shot, but I'm going to die." The view at the top was of gingerbread houses covered in sugar icing "as far as I could see. To witness that from that vantage point is a minor miracle, a series of interesting and unusual perspectives of my favorite place in the world." He was alone except for a couple he encountered up there, and their conversation ended with a three-way hug. "I proved to myself that I could do it, and proved to myself I wanted to do this more than I thought I wanted to do it, and I was meant to do it."
Don't diminish the hug. It's what Kaminesky calls "my favorite travel moment." The entirety of that experience is the underpinning for his approach to Discovery Photo Tours, in which the camera's aperture is merely a crucible for a whole-life experience. "It's not just where we can go to take great photographs but where we can go to have the most fun, a multilayered cake of people, food, and photography." He works with local operators to ensure his tours expose guests to that culture's people, customs, and cuisine in addition to its photogenic sights. "I tell people to put their cameras down and take time to breathe," he says. "No matter how good the photographs are, nobody wants to see your vacation photos. It's the stories. What stories do you live while you're on one of my tours."
Much of Kaminesky's recent efforts have been geared toward further developing Discovery Photo Tours. He has led tours to Jordan, Japan, Iceland, Italy, and Cambodia, and this year's slate includes Norway and Tanzania. He wants to expand offerings into new territory—particularly in Asia and Africa—and to hidden gems outside the "rock star locations" in Italy and Iceland. "It would be a more interesting experience to go off the beaten path with someone who knows what that locale has to offer, to be an exploration they didn't know they wanted to do until they get there," he says. "My main focus is making people happy and fostering friendships from all over the world." Hugs at tour's end are the start of ongoing friendships, he says, "and how cool is that for a legacy?"
He also is looking to do smaller group tours with more intense cultural interactions and custom tours for families and camera clubs. As he scouts locations, his own subsequent images serve to market the tours while expanding his portfolio, but he's also aware that he needs to remain engaged in editorial and commercial photography. He's single-tracked himself into career corners in the past.
The route
After attending an all-boys high school, Kamensky's first year at a co-ed college saw him concentrating on girls more than academics. "The only thing I liked was a photography course I took because I thought it would be a good way to waste time." He took a summer job packing boxes at a warehouse and simply didn't go back to school in the fall. He ended up becoming warehouse supervisor, an 18-year-old in charge of much longer-tenured workers. A year later, when he informed his boss he planned to stay on, she threatened to fire him: Yes, he was doing a great job but, she said, "You're going back to school."
With that push, Kaminesky enrolled in a photography program and began assisting fashion photographers: "So, girls, girls, girls," he recalls, and travel to Mexico and the Caribbean on shoots. He started his own business as a lifestyle photographer, traveling to the Yucatan for location shoots with models and selling his images in a contract with Jupiter Images. When the economic crash of 2008 hit, Getty Images bought Jupiter and cancelled all of that company's contracts, stanching 85 percent of Kaminesky's income. He had been in talks with Jupiter about doing travel photography, so he decided to pursue it on his own.
"Necessity: It's a wakeup call to find things out about yourself," he says. "Stepping out of your own comfort zone is where you're going to find your own magic." He thought he had discovered that magic on the Il Duomo dome, but in fact he had stumbled upon it earlier in that trip during his first stop in Paris. He tried to shoot the interior of Notre Dame, but crowds and a no-tripod rule intervened, and he was escorted out as evening fell. Walking away over the bridge, he looked back at the cathedral. "I thought, what the hell, one shot." Two years later, the image became his first National Geographic cover.
RELATED: A gallery of Ken Kaminesky's travel photography
RELATED: How Ken Kaminesky caught all those wildebeest
Eric Minton is a writer and editor in Washington, D.C.
Recommended for You
Trending Content