Creative side projects fuel Sandro Miller's success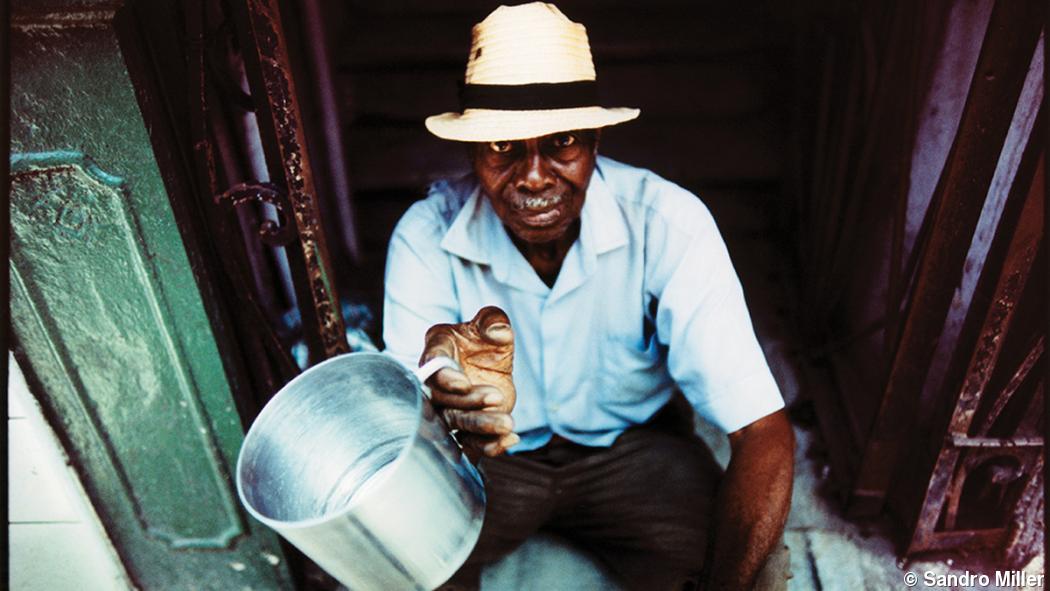 "I think ideas make great pictures," says veteran commercial and fine art photographer Sandro Miller. He's responding to a question about preferred equipment but insists that it's a non-issue. "I could take a good picture with a $25 camera or a $20,000 camera," he says. "It's not about the equipment. …Thoughts make great pictures. Doing your homework makes great pictures. But the biggest thing is having a great idea. That is what makes a great picture."
Indeed, Miller's portfolio is rich with compelling and unique ideas. Perhaps one of his best has been to cultivate a lasting photographer-muse relationship with actor John Malkovich. Miller met Malkovich 20 years ago photographing playbills, ad campaigns, and ensemble portraits for Chicago's Steppenwolf Theatre, where Malkovich was a performer. From the get-go, says Miller, "We knew we had a bond that is unusual for photographer and celebrity. Where so often it's wham, bam, thank you, I'm done with you, I'm moving on to the next celebrity, with John I didn't want that to happen. I found something very special in John. I wanted John in my life as a subject, as a muse, for the rest of my career."
Most of the time, when photographers make portraits of celebrities, the celebrity shows up with a PR representative who sets parameters for the session, Miller says. But Malkovich always arrived alone, allowing Miller to flex his creative muscles, "ready to do whatever I asked of him," Miller says. That's why, when Miller began brainstorming for a personal project to recreate 62 iconic portraits, he knew exactly the model for the job. "When the idea was solidified in my brain, I got onto an airplane and went to his home in the South of France," he says. After a couple of bottles of wine, Miller pulled out his briefcase and showed Malkovich the works he wanted to recreate. "He knew every single one of the images because they are such iconic images and he is so in tune with the art world." Immediately, the partnership was a go.
It took a year and a half to research and plan for the lighting, composition, wardrobe, and hair and makeup for each of the works Miller intended to recreate, and almost seven years of sporadic sessions to complete all 62 portraits. Miller's final session with Malkovich was in August 2017. The series, "Malkovich, Malkovich, Malkovich: Homage to Photographic Masters," has been exhibited in museums around the world and illustrates the actor's uncanny ability to transform into a subject of any age, male or female—Marilyn Monroe, Earnest Hemingway, Albert Einstein, Che Guevara—and the photographer's ability to imitate with perfection the technique, lighting, and style that defines each iconic work.
Personal project worth
While "Malkovich, Malkovich, Malkovich" may be Miller's most well-known recent personal project, it's not the only one in his 44-year career, nor will it be his last. "American Bikers," begun in 1989, was his first major foray into personal work, a portrait series for which he traveled the country seeking out compelling subjects at motorcycle rallies. "Ninety-nine percent of them were the Harley guys, the guys that came out of the [Vietnam] War or felt defeated because of the way society treated them," he explains. "So they purchased their Harleys and rode into the wind and kind of left society and started living their own way." They had incredible stories etched into their faces, Miller says, making for powerful portraiture. "You take one look at them and you could tell it's been a hard road, that life hasn't been easy," he says.
Since that series, Miller's always had a personal project in the works. "Although I have made my career and put my kids through school and bought my homes through a very, very successful commercial business, I've always stayed very, very, very focused on doing my own projects." They feed his soul, he says.
They also feed his commercial photography success. When art and creative directors are looking for photographers, they don't just look at previous ad campaigns the photographer has created; they assess the photographer's personal work. "They really want to see what you have inside of you. They want to see what is your idea. What are you doing for yourself?" Miller says. "So it's extremely important for me to do."
Miller has published nine books, which creative directors view as an indicator of a successful photographer, he says, proof they're hiring someone "who is extremely dedicated to his craft … somebody who is professional and who knows how to produce big campaigns."
"There has never been a time in my career when a personal project has not been going on," he says: street portraits in Morocco, indigenous tribes in the jungles of Papua New Guinea, black women's hairstyles, to name a few themes.
In the early 2000s, inspired by his love for Mohammed Ali, Miller began a series documenting the tiny boxing halls of the world, where young kids and teenagers try to fight their way out of poor communities. "I needed to experience firsthand the smells, the rawness, the dim lighting, the grit." Eventually, the project brought him to the boxing halls of Cuba, where he was approached by the Cuban government for a different project: photographing Cuba's greatest athletes.
"When Fidel Castro took over in 1959, he eliminated all photography of sports stars because he didn't want to elevate any of them beyond what he was," Miller says. So for decades there were no photographic records of any of Cuba's world-class athletes. Times had changed, though, and the government wanted photographs of these living legends. Agreeing to the project was no small thing, as the American government was "100 percent against me going to Cuba," he says, and making the trip involved finding illegal ways to bring a crew and 16 cases of photography equipment into the country. "I was interrogated. I was investigated. I was hassled a lot by the [American] government."
But the benefits outweighed the risks for Miller. "The opportunity for me to go to Cuba and to photograph these amazing stars, these amazing athletes, some of the best athletes in the whole world, was an opportunity most photographers would die for," he says. "I wasn't going to let a silly ruling by our government, who thinks I'm going to go down there to support the regime because I'm taking photographs, stop me from going to Cuba and doing a job that I needed to do and that would move my career forward. … It's what a photographer does. A photographer takes chances, many times even puts his life on the line to tell a story, to do a project that can be shared with the world. To me this was an important project because I really wanted the children of Cuba to know who their heroes were, to be able to put a face with a name."

In the end, he delivered 160 portraits of Cuba's greatest living athletes to the Cuban government, which he also included in his own book "Imagine Cuba," published in 2010. Additionally, the book features his street photography from 15 years of visiting the country. "It was a juxtaposition of two different subject matters, one being the rawness, the grittiness, the impoverished streets, and [the other being] the beautiful portraits of these elite athletes."
Wisdom in longevity
Though he's been a photographer for 44 years—since he discovered Irving Penn's work in an American Photography magazine when he was 16 years old—Miller still faces challenges in an evolving market. He became a single parent when he was 23 years old and decided to stay in Chicago to raise his daughter rather than move to New York. "It made it difficult for me to become one of the most sought out editorial photographers because of my location," he says. He still travels to New York often on projects to maintain a presence there.
More recently, he's struggled with social media's influence on photography and believes it's created a "false identification" of what a professional photographer is and why one should be hired. "I and many other photographers have spent our whole lives—30, 40, 50 years—making our craft what it is, [perfecting] our style, and working on it, and we live, eat, die, sleep photography. We didn't wake up with a cell phone in our hand and take photographs and start getting followers and then start getting hired because we have followers."
Social media has also drawn people away from print and from visiting exhibitions of photography, Miller says. People are missing out when they view photos solely as three-quarters of an inch by three-quarters of an inch squares. "What is getting lost is the true experience, the true engagement of an image on a wall that is powerful, that moves you, and that now you can turn to the person next to you and have a conversation about. You can't do that on Instagram. It's click, next image. Click, next image."
Nevertheless, he's had to embrace social media to keep up with the times. "Do I love it? No, I hate it. I think it's silly. I think it's so self-serving. I guess I'm just not that guy who wants to put myself in front of the camera, and shoot these selfies and behind-the-scenes images. I am more private than I think social media allows you to be, so it's been a challenge." His solution? Employ a full-time social media savant to handle it. "It's a necessary evil," he says. "It's the new way we are getting our work out into the world."
What hasn't and will never change, he says, is the power of a single image. "There is nothing more powerful, more educational than that single image. That single image has changed political stances; it's changed the outcomes of war. People go deep into their pockets and donate for causes that need funding. There's nothing more powerful and more educational than that single image. It's not going away."
And neither is Miller. He's working on another personal project that, for now, he's keeping under wraps. "I feel that it's been the most important part of my career, the personal work," he says. "Because when it all comes down to it and the day comes that I'm called to leave this earth, I am not really going to be remembered for the last ad campaign I did. But I will be remembered for the dozens of personal projects that I have taken under my wing."
RELATED: Sandro Miller's Malkovich series
Amanda Arnold is associate editor of Professional Photographer.
Recommended for You
Trending Content