In real life: Nichole Manner connects with seniors
A phone consultation with a teenager? That's unusual, says photographer Nichole Manner, M.Photog. These days, teens avoid talking on the phone like the plague. So nine times out of 10, Manner's pre-session phone consultation to gather information about the subject's interests and personality is a conversation between herself and the subject's parent. Nevertheless, she makes an effort to connect with teens directly via their preferred methods of communication, which are typically text message and Instagram direct messaging. (She finds fewer and fewer teens on Facebook.) Manner encourages her young clients to message anytime with questions about the session and to send photos of potential wardrobe options. "I try to meet them where they are rather than pull them into what I'm comfortable with," she says.
It's a philosophy that's worked well for her high school senior clients and for her business in general. While many photographers specialize, Manner, who is based in Jefferson City, Missouri, remains a generalist ("Each genre scratches a different creative itch," she says) with a heavy focus on seniors portraiture. Even within the seniors niche she delves into varying styles—composites, studio portraits, location portraits in urban and rural settings—to match clients' personalities. "I don't try to fit them inside my box or some particular look," she says. "I feed off what they bring to the table. If they are shy or more subdued, then they come across that way in the photo. I'm not trying to stretch their comfort zone too far. Their portrait should be who they are as an individual and not try to make them into something they are not."
All in
Initially, Manner's interest in photography was only for documenting her children and building family scrapbooks, but a friend encouraged her to do more. "I started to portfolio build about 12 years ago and thought I would just be making enough money to fund my hobby," she says. "But I guess the universe had other plans."
Manner ticks off some lessons from her early days: Charge what you're worth, respect your time, join your local PPA affiliate, and participate in PPA's International Photographic Competition. Manner found quick camaraderie and understanding during her first forays into PPA affiliate events. "You can talk to your family members and be inspired, but they don't always speak the same language," she says. Before long she was volunteering at her affiliate and found herself on the board, eventually serving as president. Being shoved out of her comfort zone by fellow professionals has been a huge benefit, she says.
Through PPA, Manner dove into photographic competition, which has been instrumental in improving her skill set, she says. "It's funny because I talk to people about print competition all the time. They say, 'Oh my gosh, you've won so many awards.' But it's not about the shiny stuff. The shiny stuff is fun to post onto social media, but the real value in print competition is from conceptualizing an idea and the learning that you go through to get it to your final product." With every image she creates for competition, there are challenges that force her to experiment and learn new skills.
Competition is also a creative outlet. "Sometimes I want to do something weird that may not really speak to a client the way it speaks to me, but I have to get it out," she says. "That's part of being creative and that keeps you fresh and keeps you learning." Even when she's spent hours on an image that just misses a merit, it's always worth the effort. "There was something valuable there," she says. "I didn't consider it a failure."
Over and above
Manner knows that simply delivering a superior product is not enough. "The pond is really full of fish," she says. She's not the photographer getting all the clients, and that's great with her. "Because of that I am able to treat my clients better. I can treat them like they are my only clients." She notes some of the things she does to exceed client expectations:
Personalized wardrobe assistance. If a client can't decide what to wear to a session, Manner offers to come to their home to help make the selections. She's also accompanied clients on shopping trips to purchase appropriate items.
Wall portrait consultation. If the client wants a wall portrait for their home, she stops in to suggest portrait placement and take measurements to ensure the optimal size for the space. She also offers to hang the portraits.
In-home in-person sales. If a client can't leave their home because of illness or other factors, Manner sets up an appointment to make a home visit.
Philanthropic support for clients. When a client asks for donations or sponsorship for a cause, she provides it. Her high school senior clients are often fundraising, and she always shows support.
Portrait and album delivery. Instead of having the client pick up their purchases at her studio or mailing them, Manner makes a personal delivery, texting the client ahead of time to meet them wherever is most convenient—work, home, coffee shop, you name it.
"I try to be a little bit special, pay more attention, and give a little more of a personal touch," she says, "to where they almost feel like it's a friend interaction versus going to a business and having a transaction."
As for her high school senior clients, it's all about respect—speaking to them like adults, not kids, and taking an interest their individuality, she says. "They are at a time in their lives where they are nearly adults. It's easy to get into a mindset, especially if you have kids of your own, where you don't recognize that they're almost on their own. … They have their own hopes and dreams." During sessions, she shifts the focus away from the photography and talks to them about what they want to do with their lives. "When you get one of these kids talking about what they're interested in, it just lights up their whole face."
Amanda Arnold is the associate editor of Professional Photographer.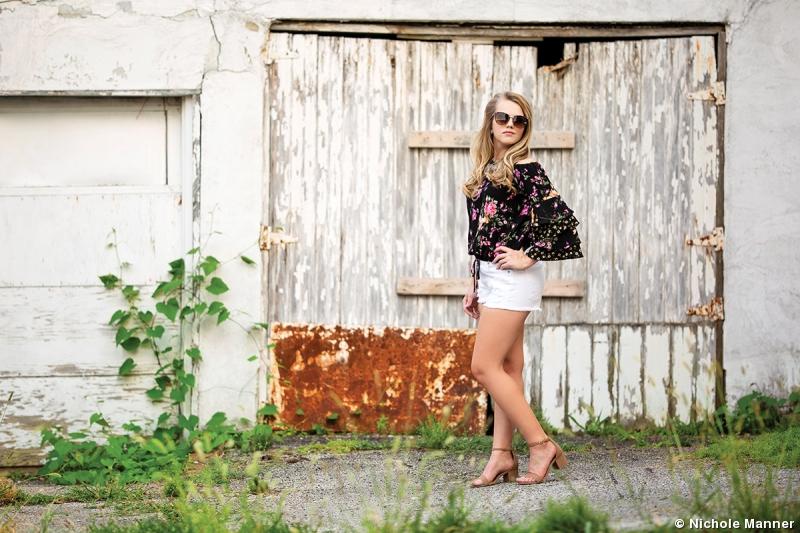 Recommended for You
Trending Content