Review: Tether Tools Air Direct Wireless Tethering System
Tethered shooting lets you capture images directly from your camera to your computer. This technology lets you and your clients see large image previews during a studio session so you can evaluate photos immediately.
There are software solutions that enable transfer with a wired USB connection, and many photographers are comfortable with that. But for portrait, child, pet, and high-volume photographers, as well as commercial photographers with people on set, wires on the floor are a problem waiting to happen. Wireless solutions that offer camera control and file transfer directly to a computer have been generally limited to proprietary software from camera manufacturers, and they leave much to be desired in terms of functionality and ease of use.
With the introduction of the Air Direct Wireless Tethering System from Tether Tools, the range of cameras as well as the range of software available for wireless tethering in the studio has greatly increased. Support is available for DSLR and mirrorless cameras from Fujifilm, Sony, Canon, Nikon, Panasonic, Olympus, and Leica, along with medium-format cameras including Hasselblad and Phase One.

The Air Direct system supports wireless tethering to software many photographers are already familiar with such as Adobe Photoshop Lightroom, Phase One Capture One, Tether Tools Smart Shooter, and any others that support wired tethered capture for your camera. For Nikon and Canon users, Air Direct can also be used to transfer images to iOS and Android smartphones and tablets via the Air Remote App.
I tested the Air Direct with a range of Nikons (D800E, Z 6, D750) coupled with Capture One, Lightroom, and Smart Shooter software. Every combination performed flawlessly when tethered to both Mac and Windows computers with subtle differences for each camera-software-operating system combination. I also successfully tested several cameras tethered to my iPad and Android phone using Tether Tools Air Remote apps.
Although I tested the Air Direct with Lightroom, my software of choice for tethering has always been Capture One. Using it with the Air Direct is functionally the same as with a wired connection other than the slight lag time for transferring a raw file. I overcame this by setting the camera to record raw and JPEG. The JPEG transfers instantaneously and the larger raw file follows right behind. The freedom wireless tethering offers in the studio, especially with a wireless connection to lighting, is wonderful. Tether Tools offers an accessory cold shoe to mount the Air Direct to a camera bracket or other device when your hot shoe is occupied.
The disadvantage to my setup is the Nikon system itself, which doesn't support image review or saving in camera when connected to a computer. Tether Tools' solution to this is its Smart Shooter software. Smart Shooter allows you to view captures when connected to a computer and to save captures to the camera card. You can also save only the raw files to your camera while sending the JPEGs to your computer.
Smart Shooter 4 and 4 Pro support most Nikon, Canon, and Sony cameras on Mac and Windows. There are advanced features in the pro version that are not available on many other tethering software products. These include individual control of up to eight cameras, control of cameras from preset or user-generated scripts, barcode scanning, and integration of an external application programming interface with other software systems. Smart Shooter is sophisticated tethering software and worth a look.
Main story continues below setup information >>>
---
---
ABOUT THE SETUP
Setting up the Air Direct to capture and transfer files wirelessly to your computer is straightforward if you follow the instructions and impossible if you don't.
1. Download and install the Air Direct Utility (ADU) from tethertools.com/adu onto your computer. This allows for wireless point-to-point communication between camera and tethering software.
2. Set the Air Direct switch to ADU. With your camera off and computer on (but not running ADU or tethering software), connect the Air Direct to your camera with the appropriate supplied USB cable. Now power on the Air Direct. (The supplied battery won't draw down the battery in your camera. In an extended test, the Air Direct battery lasted about the same time as my D750 battery, about five hours.)
3. As the Air Direct powers up, its blue light blinks. When the light is steadily on, it's time to access the wireless utility on your computer, select Air Direct, enter your password, and make the connection. Launch the ADU to complete the connection.
4. Power on your camera, open the tethering software of choice on your computer, and start your photo session.
Once you've done this a few times it becomes automatic, but if you forget or try to improvise, you'll be out of luck.
---
---
>>> Continued from above
The Air Direct system is $330 and includes the device, battery, battery charger, and assorted cables that connect to the range of supported cameras. Tether Tools' Smart Shooter 4 software is $79 and 4 Pro is $196. The trial version available from tethertools.com includes both.
Stan Sholik is a writer and photographer in San Clemente, California.
Walking through my garden, hundreds of feet from my computer, I was able to send files directly to Capture One. The Air Direct system allows seamless wireless tethering to familiar tethering software, including Capture One.
Without the temptation to chimp—check every capture on the photo display immediately after making it—I was able to concentrate on the creative rather than the digital process, as I used to do with film cameras.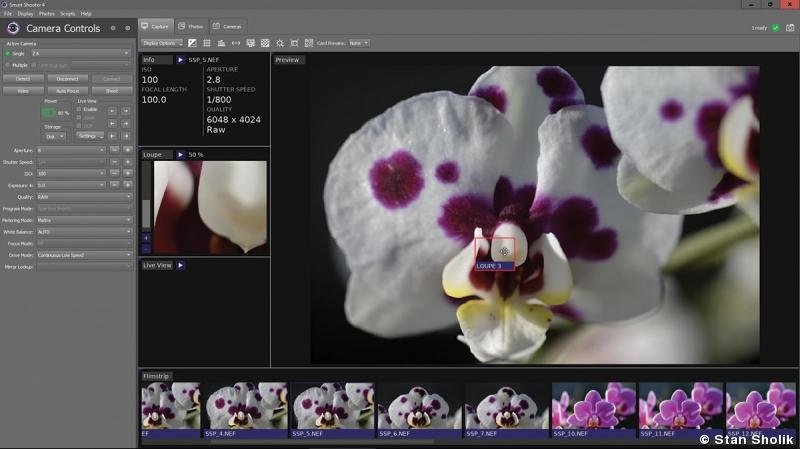 Tether Tools Smart Shooter software makes a good companion to the Air Direct hardware. Smart Shooter software gives you the option of saving captures to the camera card, computer, or both.
Recommended for You
Trending Content